Nelson captured in Clay.
An Installation of work by seven different potters from sunny Nelson.
Artform invited a well-known group of potters to send work to our gallery, to create an installation with a body of work with the common denominator being its' geographical point of origin: Nelson. Nelson is very well know for the artistic vibe and culture, for the World of Wearable Arts, artist studios, New Zealand's first cafe (apparently!), and for its clay. As such, potters settled there to set up shop....and are still there.
Katie is a Wairarapa girl who moved to Nelson in the late 1980's to study Craft Design at Nelson Polytechnic. It was here that Katie discovered clay and began to dabble in the production of decorated tableware and during the early to mid 1990's made a very popular range of functional wares , selling at the Nelson Market and the Martinborough Fair.
In 1991 katie produced some sculptural pieces for an exhibition at Gallery One in Nelson. These works were created by rolling out flat strips of clay with a rolling pin and weaving , wrapping and joining them to make a series of boat forms.
This " handbuilt clay art " quickly became recognized and before long Katie no longer had time to throw bowls and mugs as the demand for her " handbuilts " had become too great . In the mid 1990's Katie won two of New Zealands premier ceramics competitions. - The Birkenhead Awards and The Cleveland Ceramic Awards. In the year 2000 Katie moved to Upper Moutere Village to share a studio and gallery with her main man - Owen Bartlett. Katie has now been a part of over 300 exhibitions and her work has a happy place in many homes around the world .
Mandy Gargiulo is a ceramic artist based in Nelson, New Zealand. Working exclusively with porcelain, Mandy draws inspiration for her ceramics from the shapes and textures of her natural surrounds. Flowers, leaves and the sea are all strong influences on her work. Celebrating what she terms the "beautifully perfect imperfection of nature," no two pieces of work she creates are identical. Mandy's pieces all show the signs of the hand that has made them and the personality and materiality of porcelain as a medium. Juxtaposing the crisp brittleness of the unglazed exterior of her bowls and vases with soft, smooth, glazed interiors, Mandy's pieces encapsulate and enhance the perfect imperfections of the natural world.
Royce McGlashen began his pottery career in 1966 when he began a five year apprenticeship at Waimea Pottery. In 1971 he qualified as a Master Potter. After travelling and working overseas for 2 years he returned to NZ and established his own studio pottery in Nelson. In 1988 he became a member of the International Academy of Ceramics (Geneva) and in 1989 was award an MBE for his services to pottery in New Zealand. Royce has always specialized in well designed tableware and decoration has been a feature of his work. His work has always reflected his New Zealand surroundings but now decoration has given way to texture and he is using a colour palette that gives a feel of our country. While this works remains functional it has a strong tactile appeal. In conjunction with this functional production Royce produces ceramic art works. This individual work is either hand thrown or hand built using slab construction techniques, sometimes including hand thrown components. There are several themes that Royce's ceramic art work follows and this is obvious when you look at his work retrospectively. His work is often decorated, exploring the balance between form and surface decoration, working with dry slips and the occasional flash of a contrasting shiny glaze or subtly textured surfaces. Royce has won many awards and been included in exhibitions throughout the world.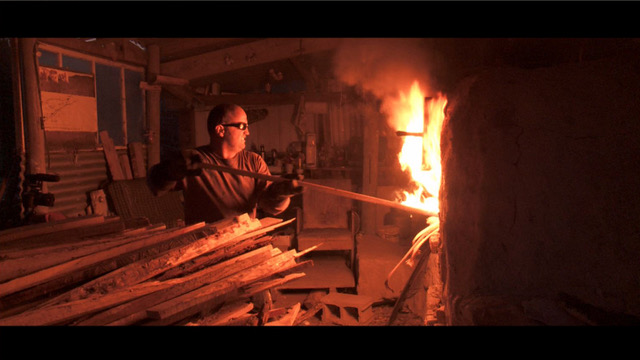 Darryl frost grew up in Leigh and traveled to Nelson to study at NMIT in 1989 majoring in ceramics. He has been working as a full-time sculptor/potter ever since. His distinctive style of anagram wood firing has gained him national and international recognition as well as several awards including a Diploma of Honour from Korea. He has also pursued his passion for large scale multi-media sculpture works, many of which can be found throughout New Zealand in public and private collections including the Wallace Arts Trust.. Darryl currently works from his home and sculpture garden at Kina Beach near Mapua. From his anagama kiln and studio at Kina Beach, Darryl creates an eclectic range of award-winning wood fired ceramic works and large multi-media sculptures. Darryl's work is a tackle and intuitive response to his surroundings, an homage to the interplay of the elements. When Darryl's pieces are unveiled from his 7 meter kiln the true beauty is revealed, altered and twisted; the raw materials shaped by man and fire. His signature wood ash glazes are Darryl received a diploma of honour at the first World Ceramic Biennale in Korea 2001. His work is represented in art galleries nationally and internationally. Darryl's striking sculpture garden and gallery features large and small works in clay, steel, wood, glass and other materials. For over three decades the process of wood firing ceramics has been the creative touchstone that changed the course of my life. This blending of both historical references and contemporary intellectual values has galvanized the work and my aesthetic vision.
Born in Nelson 1968. Owen was raised in Richmond , near Nelson where he enjoyed a marvellous childhood of fishing , playing with sticks and partaking in every sport that was going. With his brother as worthy opposition , many a cricket test was played on the back lawn of their family home which was orange with a green roof. He attended school on nearly all occasions and in the winter liked to be first there so as on his way he had the whole untouched sports field to scuff patterns in the frost. After doing a little clay work in his final year of school, Owen managed to get work in the pottery studio of Peter Gibbs and Julie Warren. From here he moved to work and train with Royce McGlashen in Brightwater. After 5 years at McGlashen Pottery, Owen went to see the world , working in a pottery in North Yorkshire in England , teaching in iConnecticut , U.S.A. and working in the Hosiery department at Harrods in London. On returning to New Zealand in 1997 Owen Bartlett Pottery was established. Owen produces a range of handmade , designer tableware and does some limited edition sculptural clay art pieces for exhibition and competitions. In 1998 he met Katie Gold who is a clay artist of some note and n 2000 they purchased a 110 year old house in Upper Moutere Village where they share a studio and gallery.The house is white with a blue roof and there is over an acre of garden with some 200 roses . Their two marvellous cats and a cheeky little dog live here too, and they plan to live happily ever after. When Owen is not in his workshop he enjoys fishing, diving, golf, cycling and talking politics with the cats.
I started learning about clay way back in the late 70's early 80's. Straight out of school to the Otago Polytechnic Art School for three years, then one year on the full time ceramic course. I was very lucky to be taught by two very good potters with different approaches to clay. Neil Grant, an amazing technical thrower with a wealth of information and skill, and Michael Trumic for his knowledge of art, clay and form. I have lived on our 12 acre property in Nelson for close to 30 years where my partner Chris Hinkley and myself set up the pottery. For many years I have been the potter who has sat at the wheel and made domestic pottery. It takes years to master the skills you need to become a reasonable potter. I think you never stop learning, which is what makes working with clay so interesting and at times frustrating. Recently my work has started to drift away from domestic pottery and into the challenging area of porcelain, and larger altered bowl forms and vases in stoneware. Clay is very versatile, there are many ways of working, many ways of finishing and glazing. The results are always fascinating and the journey always interesting. This is what keeps me working with clay and trying to make work people like to have in their homes and to use in their every day life.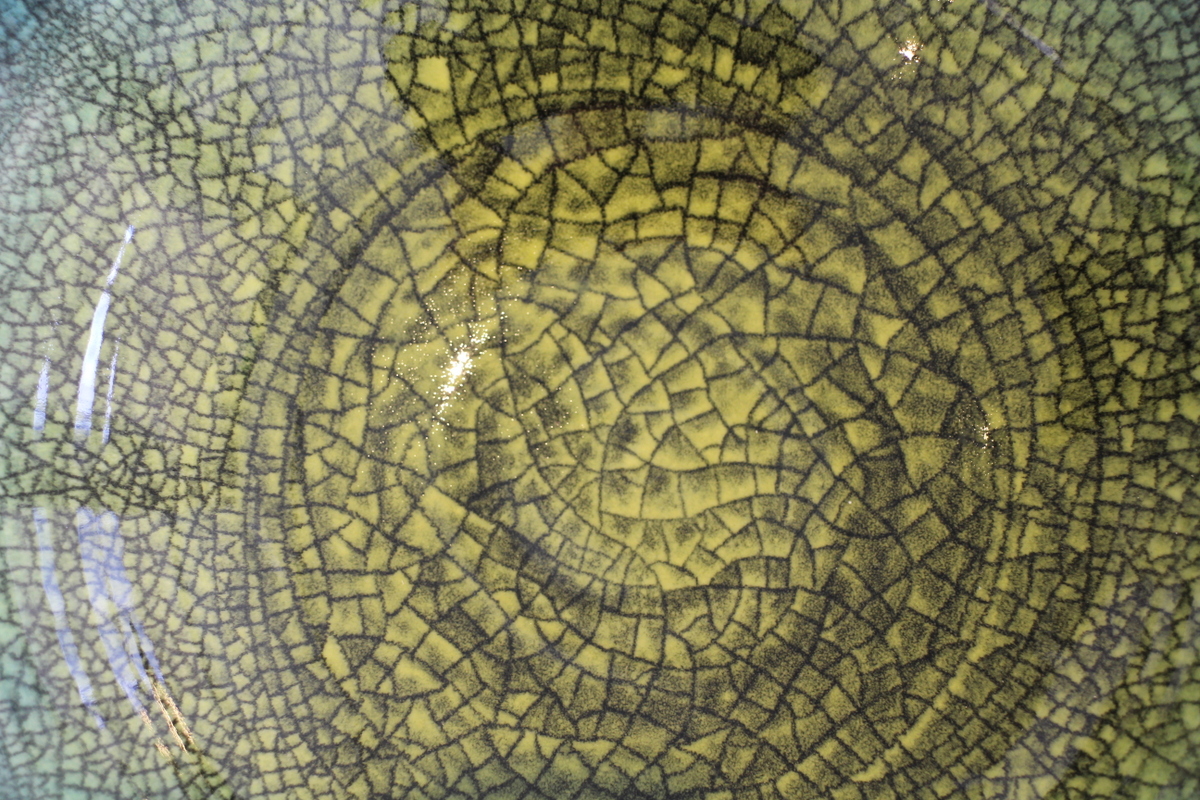 Stephen Robertson is a potter in Nelson, New Zealand. He has developed a distinctive craze glaze process which has become a signature to his works. He combines this with his attention to form and function. The process of transforming a lump of clay into a finished piece continues to inspire Stephen to innovate and evolve his approach to creating good pieces of pottery. These include Mugs, Bowls, Dinner Sets, Vases, and Hand Basins. These bowls were fired to 1200 degrees in my electric kiln. They have my distinctive craze pattern glaze. 2 of the bowls are yellow turning to a turquoise near the rim inside and outside with a solid subtle black rim. The large bowl is the same except it's a red instead of turquoise.